May 9th kicks off the start of Mental Health Awareness Week 2022. Mental health awareness is important to ensure the wellbeing, behavioral health and overall happiness of all. This is a particularly important issue for older adults who are at a higher risk of poor mental health due to factors such as isolation, inactivity, memory loss, and potential physical disabilities. This year's theme is "together we can tackle loneliness," which is particularly important for seniors who are more likely to feel isolated.
What are the Major Mental Health Concerns for Seniors?
Promoting positive mental health is important for both young adults and seniors, but in older populations, the risk for mental health conditions increases. Many can experience feelings of anxiety, loneliness, cognitive impairment or mood disorders if left unnoticed. This is why advocacy campaigns like those put on by Mental Health America can help educate the Americans on the best ways to have positive mental health.
Learn more about mental health warning signs here and how to Combat Isolation.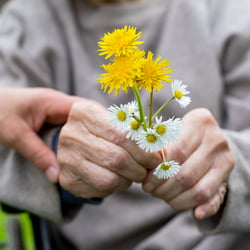 So How Can you Help Improve Your Mental Health?
The good news is there are many ways to help improve mental health, or to prevent mental health decline. Simple activities and resources can help engage older adults and keep minds sharp and moods up.
Stay Connected:
Staying connected is one of the best ways to prevent negative moods and mindsets. Whether this is done through technology, family, friends, or connecting with neighbors, having meaningful connections with others has been proven to improve mental health.
Click here for tips on how to stay connected using technology
Try Brain Games:
Games are also a great activity for promoting positive mental health. Joining a group or club that plays together will encourage strong bonds. Weekly planned gatherings can also give older adults something to look forward to and engage with. Activities like bridge clubs, dominoes groups, chess clubs, or scheduled bingo or trivia events are great examples of social games that keep minds sharp, but also promote friendships and mood boosting activities.
Read more about what games can help keep your mind sharp

Stay Active:

Similarly, ensuring physical activity and movement is good for both the body and the mind. Consider trying out a new activity this mental health awareness month. There are a number of programs and initiatives recommended by health professionals which can encourage positive mindsets and healthy bodies.
Walking groups, aqua fit, tai chi and other lower impact sports and activities are ideal for seniors. They encourage getting physical, but in a safe age appropriate way. Many of these activities can also be done in a group, further promoting friendships and connections which can combat mental health challenges.
Try Pet Therapy

: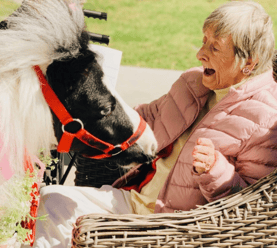 Pets are also amazing for helping mental health. There is a reason social media is flooded with cute puppies, adorable kittens, goats, birds and other animals. Animals are proven to help raise moods and bring joy and meaning to people's lives.
Especially throughout the pandemic, when human connections were limited, many people turned to animals for companionship. Their unconditional love and affection give people focus and love - important parts of mental health care.
Read more about how pets can promote positive mental health
Senior Living communities can be a great way to ensure you or your loved one is in an environment that promotes positive mental health. These communities are created with older individuals in mind, and encourage age-safe exercises, a variety of social activities, brain-boosting games, and above all ensure individuals are not alone, isolated, or disconnected from others.
Mental health awareness week is a reminder of the importance of keeping a strong and healthy mind and mindset. A decline in mental health can lead to physical ailments, stress, depression, and other negative afflictions. It is especially important for seniors, who can easily feel isolated, to ensure they are taking steps to promote healthy mindsets and positive connections.
Learn more about how your local community is highlighting mental health and mental illness awareness week, and how our caregivers, nurses, and activity providers are promoting healthy minds and spirits each and every day.