Each and every one of our Pacifica Senior Living communities is a unique, inviting, and — place for seniors to call home. That is certainly true of Pacifica Senior Living Fort Myers, an award winning Memory Care and Assisted Senior Living community located on the Gulf Coast of Florida. This bright, sunny and friendly community offers a range of personal care services from our caring compassionate team. Updated, resort-style amenities cover day to day needs so residents are able to enjoy a balanced lifestyle of independence and support when needed.
"the staff is beyond fabulous, caring and kind. The front office staff is wonderful and assisted in every need thus far.."


What does the Fort Myers community look like?


Cottages and Apartments: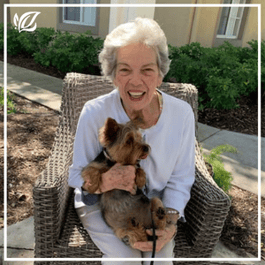 Both our Assisted Living and Memory Care residents are cottage-style homes in one and two bedroom options. These quaint and cozy homes offer the perfect peaceful environment for both Assisted and Memory Care residents.

Additionally, the cottage layouts and apartment floor plans are identical to one another in order to aid memory care residents. By ensuring the Memory Care and Assisted Living rooms are the same, individuals who transition from one care level to the next can do so in the smoothest way possible, without feeling as though they are uprooted or disoriented in a new environment.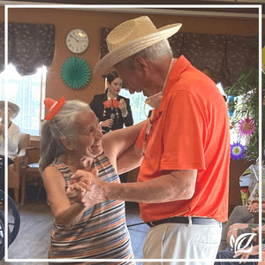 Similarly, there are no long, winding hallways in which to get confused or lost, and no stairs so navigating and getting around is as easy and accessible as possible.

These differences allow our residents to have the optimal amount of freedom and independence possible, while ensuring they are secure, and have access to attentive caregivers whenever needed.




"...By far this facility is nicer and has a higher quality staff than other facilities we have visited. The staff really cares about all residents and makes the facility a home-like environment. The director does a great job and goes above and beyond to host special events and activities for the residents."

Common Spaces:
Our communal areas include a rec room, dining area, in house barber and beauty salon and library for residents to enjoy at their leisure. Each space has its own warm and inviting atmosphere, so residents can truly feel at home and enriched.

The outdoor areas are quite a draw in Fort Myers - we know the warmer weather is a huge draw for many in their retirement years, and our community's courtyards, manicured lawns, trees and flowers offer a quiet oasis to enjoy nature, birdwatch, relax, or soak up some sun.
Pacifica Senior Living is committed to providing the highest level of care. Our skilled and highly trained caregivers and staff members are available 24 hours a day, seven days a week. They are specifically trained in redirection techniques and cognitive-enhancement therapies catered to individuals with memory impairments in order to best serve our Assisted Living and Memory Care residents.




Assisted Living:

Assisted Living homes are ideal for residents that want to live a fairly independent life, but who may need some assistance with the chores and activities of daily life. The caregivers at Fort Myers offer a range of services and assistance depending on the needs of the individual, so each resident can feel as comfortable as possible in their Pacifica home.

You can learn more about our Assisted Living here.

"We have a family member at this facility and it is top notch. From the staff to the food to the facility itself our family could not be in better care. We love them and appreciate them so much!"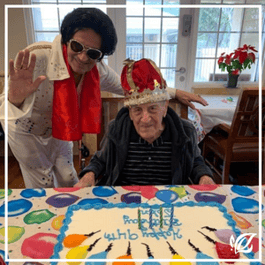 Memory Care

:


Memory care is ideal for anyone dealing with cognitive impairment or memory conditions. Whether it is Alzheimer's, dementia, or other memory loss issues, our kind and patient staff are specifically trained in the most caring and effective ways to assist memory care residents so they can enjoy peaceful, relaxed golden years.



Check out our article on Memory Care to learn about programs & therapies that set Pacifica apart.


Amenities and Activities: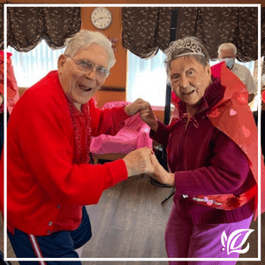 One of the many things that set Pacifica apart from other senior living communities are our events and activities. At Fort Myers, our Activities Team has a full schedule of fun and engaging events, groups and gatherings for our residents and visitors. From dance parties to live music, craft activities to gardening, pet therapy or manicures and hand massages, there is something for everyone to enjoy.
These activities not only keep residents physically and mental active but are curated and catered to memory care residents to ensure they have equal opportunity to be engaging, connecting, and bonding with others.

We think our Fort Myers community is an outstanding place to live, with some of the best team members around. From caring staff to beautiful outdoor spaces, and cozy homely accommodations, it is an ideal home for you or your loved one.

You don't have to take our word for it, though. Our residents and their loved ones are raving about the compassionate, attentive and caring experiences at Fort Myers.
Stop by, schedule a tour, or give us a call to learn more about Pacifica Senior Living Fort Myers!